COOPERATIVE CONSERVATION CASE STUDY
West Eugene Wetlands Partnership
Urban Wetlands Spark Community Conservation
Location: Far West Region: Oregon
Project Summary: An eight-organization partnership has implemented land acquisition, habitat restoration, environmental education and recreation facilities development over a 13-year period.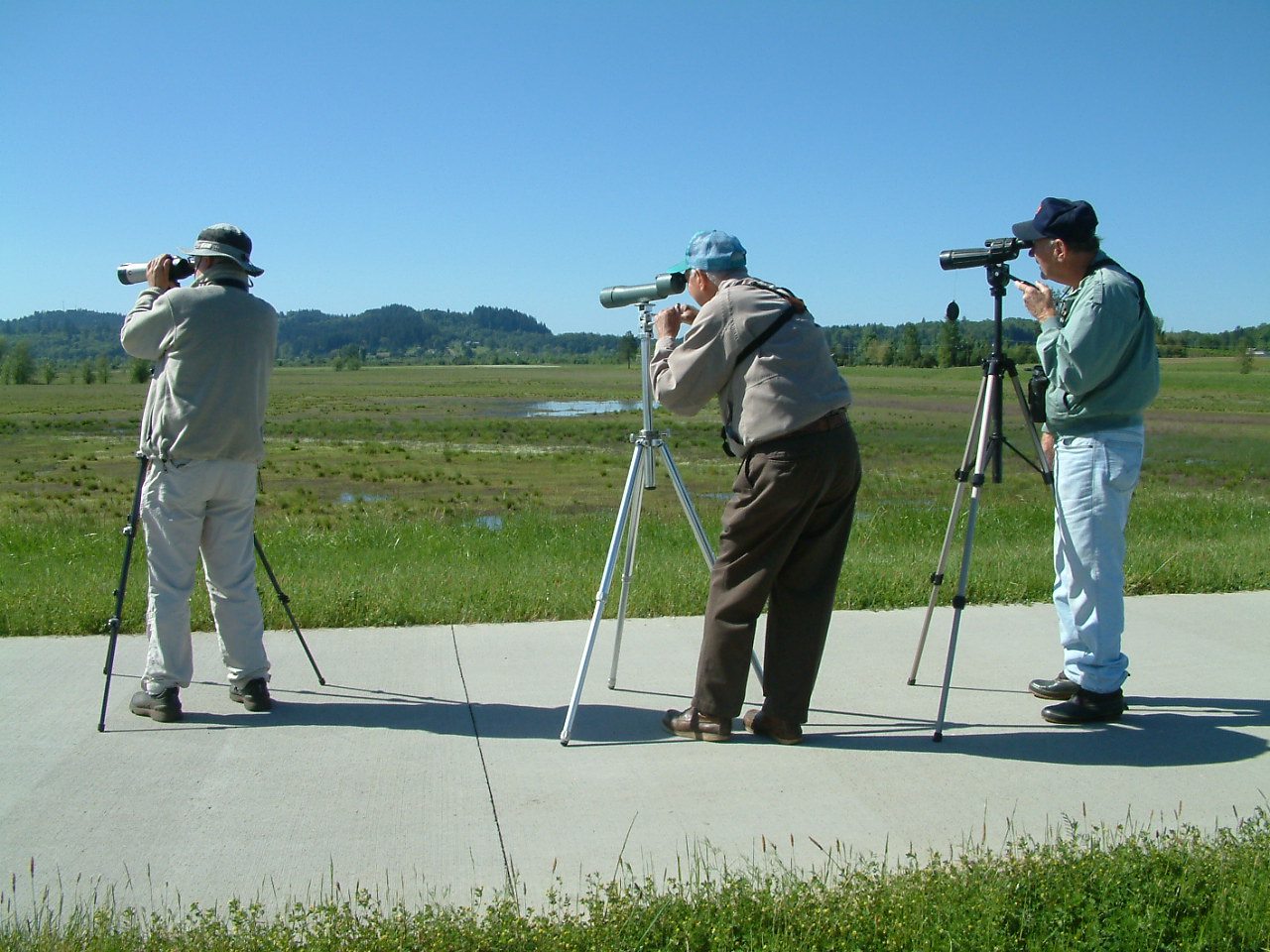 The city's wetlands provide many recreational opportunities, including nature observation, bicycling, and hiking.
Resource Challenge
A 1987 natural resource study of the Willamette Valley found that the best remaining examples of wet prairie habitat were in the middle of Eugene's industrial zone. It was an important find; just one percent of the Valley's original wet prairie habitat remains, harboring several threatened or endangered species.
The community embarked on creating a comprehensive wetland management plan, involving more than 1,500 citizens in local discussions and decisions about the wetlands. The West Eugene Wetlands Plan, an effort to balance wetlands protection, recreation, and sound urban development, was adopted in 1992. In 1994, local, state, and federal governments and non-profit organizations formed a partnership to begin implementing the Plan's goals. Each signed a Statement of Partnership, indicating support of the partnership's mission, goals, and objectives.
Examples of Key Partners
City of Eugene, USDI Bureau of Land Management (BLM), The Nature Conservancy, U.S. Army Corps of Engineers, Oregon Youth Conservation Corps, USDI Fish and Wildlife Service (FWS), McKenzie River Trust, and Willamette Resources and Educational Network.
Results and Accomplishments
For 13 years, the partnership has successfully implemented projects for land acquisition, habitat enhancement and restoration, recreation facilities, environmental education, and scientific research. Highlights include:
Acquired and permanently protected 3,000 acres of wetlands and associated uplands. Hydrologically and ecologically connected, they provide high habitat connectivity, flood control capacity, and natural water purification.
Enhanced or restored 800 acres of wetlands and approximately 12,000 linear feet of streams to improve wildlife habitat and wetland functions, helping to stabilize or expand the population of four endangered species.
Provided year-round environmental education programs for adults and children, reaching 3,000 students each year with classroom and field-based wetland education; developed a formal curriculum for 3rd through 5th graders; installed interpretive signs in the wetlands.
Constructed 2.5 miles of multi-use trails and 1.5 miles of walking trails, widely used by walkers, bikers, runners, and wildlife observers; installed rest benches, picnic tables, and parking areas.
Fostered substantial natural science and social science research, including many master's theses, Ph.D. dissertations, and other published investigations.
Implemented the above projects using partnership-based programs and initiatives, including:
City of Eugene stormwater program and mitigation bank program.

Cooperative Conservation Initiative.

Land and Water Conservation Fund.

North American Wetland Conservation Act.

Water Resources Development Act.

Challenge Cost Share Program.

Wetland Development Grants Program.

Oregon Watershed Enhancement Board grant programs.
Innovation/Highlight
Adoption by City and County elected offi cials of a multi-objective land use plan protecting 79 percent of urban wetlands and enabling progressive community development.